RICHARD WYN - ACCREDITED BUILDING SURVEYOR
October 20, 2016 at 6:30 PM
WHAT MAKES US DIFFERENT FROM THE REST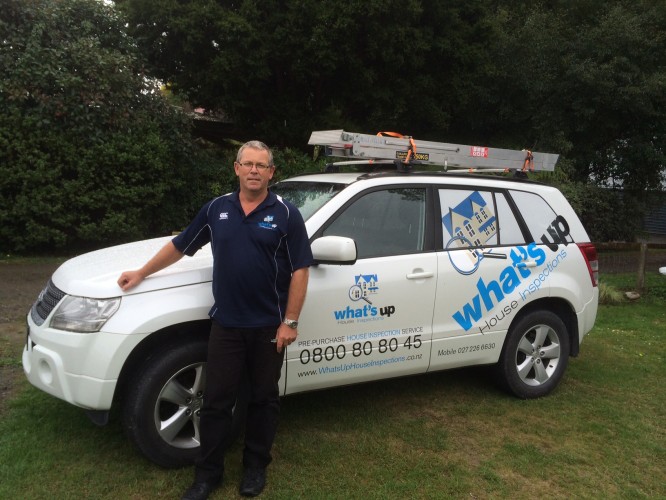 My name is Richard, and I am totally dedicated to the condition reporting/pre-purchase inspection sector of the building industry. I have had 40 plus years' experience in the building industry in New Zealand with the last 15 years dedicated to condition reporting (builder reports). In 2008 I achieved accreditation with the Building Officials Institute of New Zealand. Being accredited gives my clients an advantage when they request a condition report on the property they are considering. NZS 4306:2005 is the New Zealand standard for pre-purchase and pre-sale inspection condition work and sets down the minimum requirements to comply, the information we supply goes beyond the minimum standard which gives you our client a true account of the home.
I thoroughly enjoy being able to assist our clients make informed decisions by supplying detailed and accurate information which truly reflects the condition of the property, we are able to give this information with confidence due to our experience, ongoing training and our passion to provide a service second to none.
From our Otaki based office we currently cover the greater Wellington region including Kapiti and extending into the Manawatu which takes in Palmerston North and Wanganui. In saying that by special arrangement we will literally travel anywhere in the Lower North Island if requested.

THERE ARE REPORTS AND THEN THERE ARE OUR REPORTS.

We often get condition reports sent to us by our clients, these reports have been generated by the vendor as part of the marketing of the vendors' property. I think this is generally a good concept, however the author of the report needs to be beyond reproach and the reports must be detailed and truly reflect the condition of the home. It's amazing when reviewing some of these reports against reports we have compiled, you would almost think you were looking at a different property. I'll share with you an example of this. A vendor had a condition report commissioned and this report was handed out by the vendors' real estate agent to prospective purchasers. My client had received a copy of the report but wisely decided to undertake their own due diligence by having their own inspector check the property out. On completion of our report I reviewed the vendor generated report which had not been written by an Accredited Surveyor and found there were several variances and some important items which had been omitted from the marketing report. We discovered most of the lower level plywood cladding on this property needed to be replaced due to substandard detailing and a failure to follow the manufacturers suggested details and there was evidence of leaking within the home which was picked up using a moisture meter. A very high and large timber deck with glass and aluminium balustrades was pulling away from the home as the deck was sinking, the foundations were sliding down the hill. The true condition of the plywood cladding had not been detailed along with the moisture issues and the deck was not included in the report, yet the deck was a feature being show cased in the advertising campaign on the property.
Time and time again we see these reports and we see these building inspectors get into trouble, some have fallen over and within weeks a new company pops up with the same inspector producing the same low quality reports.
What frustrates us the most within this sector of the industry given it is unregulated is a lack of regard towards consumer care from many inspection companies. As professionals we are supposed to protect the consumer yet more often than not reports are misleading and do not truly reflect the condition of the property. Bad or misleading information (we refer to them as "soft reports") can be very costly to the buyer so why would you not want the best information you can get. This is why choosing an Accredited Building Surveyor is so important.

WHY PAY MORE FOR A REPORT WHEN THERE ARE CHEAPER OPTIONS.

Some inspectors are offering verbal reports and this is reasonably popular because of the cost savings to the client and quick turnaround, however these inspectors are putting themselves and their clients at risk. Should something go wrong it all comes down to he said or he didn't say at all. This gives the consumer extremely poor protection and when considering all the important elements on the property how can you give all that information over verbally, who can remember what was said or what wasn't. You also need written evidence of any minor or major defects with photos supporting this evidence. You don't get this with a verbal report.
Other inspectors have cheaper options for written reports with many exclusions or limitations on areas covered. We have even come across one inspector who has a dollar value per room or area needing to be inspected and you can select what rooms or areas you would want to be inspected to fit your budget. A New Zealand standard compliant report will cover all accessible areas within safety parameters and should not be broken down to areas you or the inspector think you should cover off. It's important to consider all of the property and the written report should reflect this information.
We have seen some reports which are a simple tick box document or some that have simple comments when describing the condition of elements within the property. Stand alone comments like "generally good" mean very little so we recommend you are wary of this type of report.

SO WHAT ARE YOUR OPTIONS

You could use and rely on a vendor generated report and this option is often cheap or free however your name is not on the report and the report could be out of date by the time you receive it. Recent media coverage highlighted these reports are often "soft reports" and don't truly reflect the condition of the property as they are geared to sell the home not highlight any maintenance and repairs that may be pending.
Verbal reports are cheaper but you have no documentation and verbal reports do not comply with New Zealand standards for pre-purchase inspections. You the consumer have little if any protection.
Our reports are New Zealand standards compliant and go beyond this minimum standard. This will give you the maximum information available by an Accredited Building Surveyor. The reports are detailed with clear and accurate information and photos allowing you our client, to have the information you need to make an informed decision.You can buy the house knowing its true condition, plan any deferred maintenance, manage risks, and negotiate repairs. Our reports will best advise you on any issues found and what you need to do about them.
You will find us friendly and easy to talk to because we enjoy our work. Even if you have a simple query just ring us, it's our intention to be helpful and above all else supply useful and detailed information which will ultimately lead to better maintained and healthier homes.
I wish you all the best with your search to find your new home that suits your needs and hope you have found some of the information above useful towards making an informed decision when the time comes.
Tags: house inspections Wellington building inspection Palmerston North Building Inspection Wellington Accredited Building Surveyor Wellington